Ski Jumping: Prevc leaps towards World Cup title with ninth win of the season
Comments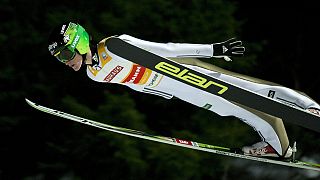 Peter Prevc took a giant leap towards the overall ski jumping World Cup crown on Wednesday when he won a night event in Trondheim, Norway.
The Slovenian has been in a rich vein of form this season and in January won three wins of the four events en route to celebrating victory at the prestigious 2016 Four Hills Tournament with all-time highest score.
On Wednesday he recorded a total points tally of 285.5 to claim his ninth individual victory of the campaign.
The 23-year-old stretched his lead in the ''Crystal Globe'':http://www.fis-ski.com/ski-jumping/leader-board/ standings to 443 points on Germany's Severin Freund, who was 10th on the day.
Austria's Stefan Kraft took second place in Trondheim with two jumps of 135 and 131.5m. He ended the event on 273.2 points
It was Kraft's second podium finish of the season following a first place finish in Zakopane.
Rounding out the podium in third place was Japan's high-flier Noriaki Kasai, who provided the highlight of the day with his record jump of 143 m in the final round.
That jump propelled the 43-year-old from tenth after the first round into third.
It was his third podium of the season.
The World Cup circuit stays in Norway next weekend for three individual competitions held on the monster hill in Vikersund.