Royal Shrovetide football: the oldest, largest and most chaotic footy match on earth
Comments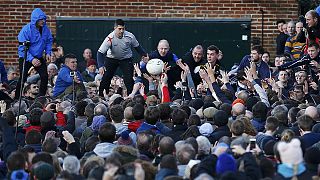 Royal Shrovetide football has been played in England since at least the 17th century and played annually on Shrove Tuesday and Ash Wednesday.
The latest edition of the event took place this week and the masses turned out to take part.
It is disputed by two teams in Ashbourne, in Derbyshire and is commonly known as 'mob football' as hundreds of people take part – in fact there is no limit to the number of participants.
The two teams are known as the Up'Ards and the Down'Ards and the painted ball they play with is made of cork, which helps it float when the chaotic competition ends up in the river Henmore.
The field of play is roughly three miles long and set between two watermills which serve as the goals although due to the length of the pitch and the amount of time most spend in the pub before hand goals are hard to come by – minor injuries on the other hand not so much.