Crisis call for Ethiopia as food aid due to run out soon
Comments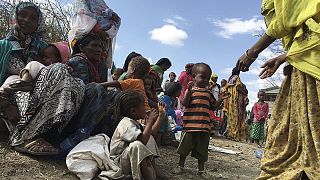 The worst drought to hit Ethiopia in 50 years is about to become a crisis according to the charity Save the Children .
It is warning that emergency food aid for 10 million Ethiopians will run out in April unless donors provide more funds by the end of this month.
#Ethiopia's worst drought in decades: "We need more funding – immediately" Oxfam https://t.co/d2UQogcsth#ElNiñopic.twitter.com/z4hRuh1GOh

— Oxfam International (@Oxfam) February 6, 2016
It predicts that more than 400,000 children under five will suffer from severe malnutrition this year.
The El Nino weather phenomenon has caused drought and flooding across Africa, leaving 20 million people short of food in the south of the continent and 14 million in the east, the United Nations says.
The number in need is greatest in Ethiopia, Africa's second most populous country.
Famine, triggered by war and drought, killed one million people in Ethiopia in 1984. The nation now has one of Africa's fastest-growing economies but many people are still small-scale farmers and herders dependent on seasonal rains.