Violent clashes in Hong Kong as police crackdown on street vendors
Comments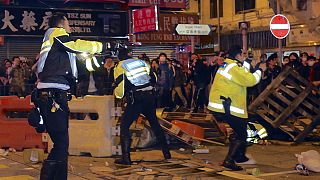 There has been a night of violent clashes in Hong Kong – the worst since pro-democracy protests in late 2014. The trouble began when police tried to move on illegal street sellers. Officers used batons and pepper spray to disperse crowds. The situation deteriorated when one police officer fired shots into the air.
Hong Kong protests over market vendors turn violent https://t.co/iKLf91iDpG#CBC

— Miyoung Lee (@MiyoungLeeCBC) February 9, 2016
The vendors who sell local delicacies, trinkets and household goods from makeshift street side stalls are a familiar sight and have attracted a strong social media following.
The clashes continued for a short while into Tuesday morning local time. Afterwards rubbish bins, chunks of brick and broken bottles lay scattered along the world famous Nathan Road shopping strip.
Its thought the police operation was ordered after complaints from regular retailers as tourists arrived in Honk Kong for the Chinese New Year celebrations.
Police say during the scuffles around two dozen people were arrested and three officers had needed hospital treatment.
Pro-Democracy
Hong Kong Indigenous, a localist group that is fielding a candidate in a Legislative Council by-election in a few weeks, was reportedly involved in the protest, according to the South China Morning Post newspaper
Street tensions appeared to have eased off, but radical protesters and "localists" demanding greater Hong Kong autonomy have vowed to keep fighting even as China shows signs of tightening its grip.
The clashes in December 2014 came when authorities cleared the last of pro-democracy demonstrators from the streets after more than two months of occasionally violent protests that had posed one of the Beijing's greatest political challenges in decades.