Syria: UN warns of siege and starvation in Aleppo
Comments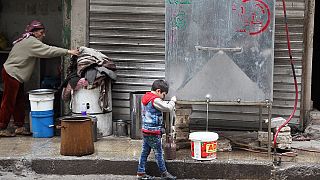 The United Nations warned on Tuesday that the Syrian government assault on Aleppo could cut off food supplies to 300,000 civilians still living there.
Syrian state forces, backed by Russian air strikes, have launched a major offensive near Aleppo over the last week, sending tens of thousands of people fleeing for the Turkish border.
Aleppo has been divded between government and rebel control for years.
The UN is concerned that the rebel advance will leave civilians in rebel-held areas of Aleppo cut off from supplies and humanitarian aid – and without a way out of the city.
"It would leave up to 300,000 people, still residing in the city, cut off from humanitarian aid unless cross-line access could be negotiated," the UN Office for Coordination of Humanitarian Affairs (OCHA) said in an urgent bulletin.
US Secretary of State, John Kerry, on Tuesday again urged Russia to rethink its strategy in Syria.
"Russia's activities in Aleppo and in the region right now are making it much more difficult to be able to come to the table, to be able have a serious conversation. And we have called on Russia and we call on Russia again to join in the effort to bring about an immediate ceasefire and to bring about full humanitarian access," Kerry said.
In Damascus, several people were killed in a bomb attack near a market and police officers' club in the city centre.
The Islamic State group has claimed responsibility.
The Syrian Observatory for Human Rights said eight police officers were killed and 20 wounded.