Syria: Tens of thousands fleeing Aleppo remain stranded at Turkey border
Comments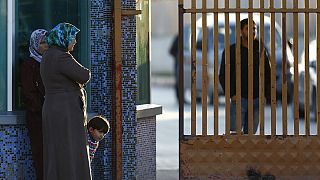 A tent city has sprung up on Syria's border with Turkey, which is still resisting UN and EU calls to open the crossing and let refugees through.
Turkish Foreign Minister Mevlut Cavusoglu says 10,000 people from the latest wave have been allowed in – a fraction of the up to a million migrants he is forecasting could assemble if Russian air strikes in Syria continue.
"Recently more than 50,000 people came to the border with Turkey due to Russia's air attacks. We took in 10,000 of these migrants and we are building some camps at the other side of the border for some," Cavusoglu said during a visit to Budapest.
"We are allowing in those who want to come, in a controlled fashion," he told a news conference with his Hungarian counterpart.
The United Nations has urged Turkey to open the border and called on other countries to assist it with aid.
The European Union, which has agreed a 3 billion euro fund to improve conditions for refugees in Turkey, has said Ankara has a moral and legal duty to care for them.
In Ankara, Turkey's Prime Minister Ahmet Davutoglu raised the prospect of 70,000 new arrivals at the frontier.
His country has won international praise for hosting 2.5 million refugees but despite the premier telling parliament on Tuesday that Turkey's gates would not be shut "to our brothers who are in trouble", the reality on the ground tells a different story.
The closed gates are being opened to aid lorries from Turkey carrying supplies for the tens of thousands massed on the border.
But having made the desperate decision to leave everything behind, fleeing for their lives, the Syrians gathered there don't want to stay in a tent camp.
Many – eventually hoping to find new homes in Europe – are now pleading for Turkey to open its doors.
"I would like to go to school & learn, so I can become someone." Syrian refugees like Najah deserve a future pic.twitter.com/aW90ir404w

— UN Refugee Agency (@Refugees) 8 Février 2016