North Korea plutonium production resumed - US intelligence chief
Comments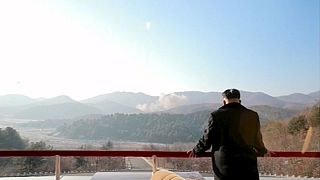 North Korea, which launched a long range rocket on Sunday in defiance of international warnings, has restarted plutonium production, according to US intelligence services.
Pyongyang announced in September that it would be resuming operations at its main nuclear facility at Yongbyon. The reactor there has been the source of plutonium for North Korea's nuclear programme.
The director of US National Intelligence James Clapper said: "North Korea continues to conduct test activities of concern to the United States. Pyongyang continues to produce fissile material and develop a submarine launch ballistic missile.
"It (North Korea) is also committed to developing a long range nuclear armed missile that's capable of posing a direct threat to the United States, although the system has not been flight tested."
Clapper also said that the US believes North Korea has been operating the Yongbyon reactor long enough to begin recovering plutonium from it within months or even weeks.
Pyongyang has conducted four nuclear tests, the most recent in January.