Moscow demolishes illegal metro kiosks in night of long shovels
Comments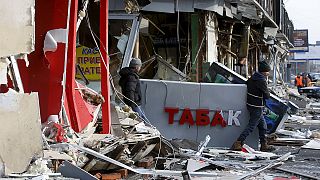 Moscow has begun the large-scale demolition of kiosks and small shopping centres.
Sergei Shogurov, head of the capital's real estate inspectorate, said that as of Tuesday morning, 55 percent of the properties that were due to be removed had been taken down.
Moscow's City Hall says the decision was taken in December and will affect just over 100 properties.
It says the buildings were constructed illegally and lacked permits.
The list includes the Pyramid shopping centre near Pushkinskaya metro station, the Albatross mall near Shchyolkovskaya as well as kiosks near Chistye Prudy, Kropotkinskaya, Arbatskaya and Ulitsa 1905 Goda metro stations, according to the RIA Novosti news agency and the Moscow Times.
2 автобуса милиции, 4 экскаватора, 15 других машин, 2 ларька сносят. 30 миллиардов рублей освоили орлы Собянина – одна ночь. :)

Posted by Artemiy Fedin on Monday, February 8, 2016
The work is due to be finished by February 24.
Owners and tenants have opposed the demolition and have protested but to no avail.
In a bid to halt the destruction they occupied the Albatross centre but were evicted by police.
Снос незаконных построек у станции метро Чистые пруды pic.twitter.com/ksqPN4NsRi

— Alexander Roslyakov (@RoslyakovAP) February 9, 2016