Man 'killed by meteorite' could be first victim ever recorded
Comments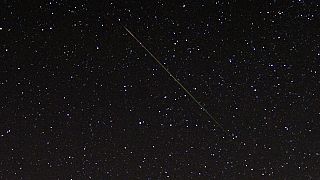 A bus driver in India has become the first recorded victim of a meteorite strike, according to the local government.
Authorities in the southern state of Tamil Nadu said 40-year-old V Kamaraj was washing outside when a large blast struck.
Having ruled out explosives and other possible causes, they concluded that a large blackened rock nearby had fallen from space and killed him.
Scientists are cautious, pointing out that the chances of anyone being hit by an asteroid are astronomically small. The rock is being tested.
Previously reported incidents have seen a dog and a cow killed by falling asteroids.
Generally asteroids up to 10 metres across are destroyed in the atmosphere, although fragments can, and do, still fall to earth.
Larger rocks pose a significant risk to cities and even entire populations and so are carefully monitored as they pass through space.