American Athletes warned over Zika risks at Rio Olympics
Comments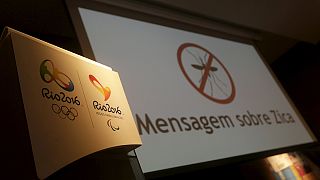 The Director of the United State's National Institute of Allergy and Infectious Diseases has warned American athletes about the risks of travelling to this summer's Rio Olympic Games following the outbreak of the mosquito-borne Zika virus in South America.
The virus is being linked to severe birth defects.
Dr Anthony Fauci said: "The issue that we are focusing on is the issue with pregnant women and even there if you follow the guidelines that are already out by the CDC, about pregnant women travelling and if they are pregnant or want to get pregnant that they consider seriously putting it off, and men who go there and might come back to the United States and might have a wife or a sexual partner who is pregnant to be very careful that they don't transmit it so those guideline stay where they are and I think those are the things that people should consider when they are going to make their decision."
Last week the World Health Organization declared the virus a global public health emergency while on Tuesday Kipchoge Keino, the head of the Kenyan National Olympic Committee announced they would not risk taking their athletes to Brazil this summer if the virus reaches epidemic levels.
Although Kenya's Olympic committee later sought to clarity Keino's comments, saying he may have been quoted out of context with chef de mission, Stephen K A Soi, adding it was too early to determine the severity of the situation in Brazil and that Rio's organisers were "on top of things".