Heavyweights hit the tatami at the Paris Judo Grand Slam
Comments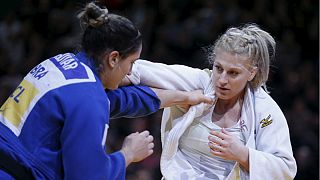 The Paris judo Grand Slam entered a second day with the heavyweights taking to the tatami.
Japan's Megumi Tachimoto picked up gold in the women's +78KG class and in so doing claimed the record medal haul of 14 Grand Slam medals, four golds in Paris alone, she received her medal from European Space Agency astronaut Thomas Pesquet, himself a black belt.
Megumi Tachimoto remporte la Coupe de l'Impératrice, elle est qualifiée pour les Monde. Tout comme Kanae Yamabe. pic.twitter.com/GPUYDfIvsJ

— Morgan Maury (@MorganMauryRMC) April 19, 2015
Tachimoto defeated China's Sisi Ma on penalty points to claim the gold.
In the -78kg category the Olympic champion Kayla Harrison of the US took on Brasil's World Champion Mayra Aguiar.
Carnival time for the Brazilian and ippon one minute and 38 seconds seconds into the contest.
OURO! mayraaguiarjudo</a> vence <a href="https://twitter.com/Judo_Kayla">Judo_Kayla e é campeã do Grand Slam de Paris! \o/ https://t.co/WTfplgJNKPpic.twitter.com/Xq3AMnOIiG

— Brasil 2016 (@Brasil2016) February 7, 2016
In the men's -81kg class that man Avtandilli Tchrikishvili from Georgia claimed the gold defeating Ivaylo Ivanov of Bulgaria. Waza-ari plays yuko.
Sport, Judo : Alexandre Iddir (-90 kg, FLAM 91) termine à la 2e place du Grand Slam de Paris. #JudoParis2016pic.twitter.com/svz1HVEKWo

— Le Rép 91 (@LeRep91) February 7, 2016
The French had to wait for gold despite a battling performance by homegrown Alexandre Iddir in the final of the -90kg category. Japan's Daiki Nishiyama took gold with ippon. Nishiyama defeated three French judoka on his way to victory.
In the -100kg class the French could finally celebrate gold when Cyrille Maret dispatched Canda's Kyle Reyes with ippon.
Judo: Cyrille Maret à l'honneur au Paris Grand Slam https://t.co/7WnhpWAAbS#Sportpic.twitter.com/OSMCxHrS6l

—

BREAK

24

INFOS

(@break24france) February 7, 2016
Maret loves Paris he has won the last three Grand Slam golds in the city of light.
Cyrille Maret décroche l'or au #ParisGrandSlam pour la 3è fois d'affilée. Victoire sur Ippon face à Kyle Reyes (CAN) pic.twitter.com/y7v5UNbffC

—

INFOSPORT

+ (@infosportplus) February 7, 2016
The man from Dijon really cuts the mustard.
Cuba provided the surprises in Paris Olympic champion in the women's +78kg class Idalys Ortiz, winner in Havana, was knocked out by the Dutch judoka Tessie Savelkouls in round one.
A Tribute To Judo Champ Idalys Ortiz And Her Fantastic Hair https://t.co/wnh6u8E305pic.twitter.com/kdLBsiRhyk

— Marketing Authority (@authority_ima) February 4, 2016
In the men's -90kg Ashley González, another Cuban, suffered a knee injury while leading in his second round bout against the German Marc Odenthal.,
González eventually eliminated.
Move of the day went to France's Alexandre Iddir who with three seconds on the clock produced a magnificent ippon to beat Georgia's Varlam Liparteliani to win pool C.
AlexIddir</a> remporte son combat face à Varlam Liparteliani et rejoint les demi-finales ! <a href="https://twitter.com/hashtag/JudoParis2016?src=hash">#JudoParis2016</a> <a href="https://t.co/kBAFfGE3tT">pic.twitter.com/kBAFfGE3tT</a></p>&mdash; FF Judo (ffjudo_officiel) February 7, 2016
Euronews correspondent Pedro Lasuen was in Paris for Grand Slam and noted the depth and quality of the sport: "The wealth of talent on show in Paris highlights judo's quality. We have everything Japanese power, Cuban inconsistency, Georgian efficiency, the richness of the French and Brasil's impressive progression. Next stop Dusseldorf on February 19."