Suicide bomber attacks Pakistani military convoy
Comments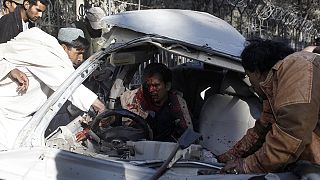 At least nine people died and 35 were wounded when a suicide bomber blew himself up near a military convoy outside the city of Quetta.
The Pakistani Taliban have claimed responsibility.
The attack was in the heart of resource-rich Baluchistan, where Pakistan and China intend to spend $46B building an "economic corridor" from the Arabian sea to Xinjiang province. Until now it has been Pakistan's poorest and least developed region, and it has also been at the centre of a decade of separatist violence.
At least three of the dead were soldiers, and 15 of the wounded. Doctors say the fatalities also included a 12-year-old girl. The province has seen at least 22 terrorist killings this year.