UN working group says Wikileaks founder Julian Assange has been arbitrarily detained
Comments
By
Euronews
with
UN Human Rights, Reuters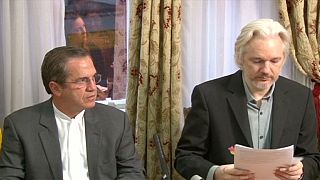 A United Nations panel has decided Wikileaks founder Julian Assange is being 'arbitrarily detained,' a Swedish foreign ministry spokesperson has confirmed.
The UN's findings will be published on Friday, February 5 and could be used to apply pressure on Sweden, which is calling for Assange to be extradited. In a video on Twitter, the agency gave 'clarifications' on whether or not the panel's decision is carries legal weight.
Christophe Peschoux of UN Human Rights said "The decision is indirectly, but still legally, binding."
#Assange detention case: Clarifications on whether the #UNWGAD opinion to be issued tomorrow is legally binding pic.twitter.com/BGUJEzoJn3

— UN Human Rights (@UNHumanRights) February 4, 2016
---
Where is Assange and why?
Assange claimed asylum in the Ecuadorian embassy in London three-and-a half years ago to escape extradition to Sweden over accusations of sexual assault dating back to 2010.
Charges of sexual molestation and unlawful coercion were dropped in August, 2015, however the more serious accusation of rape still stands.
Assange has always denied all allegations against him.
---
UN decision 'interpreted Swedish law'
Speaking ahead of the official release of the panel's verdict, Assange's lawyer, Per Samuelson said the decision would not be "formally binding" and Sweden would be "free to neglect it and go against it." However, he warned this could be impossible to do as the panel "interpreted Swedish law" in coming to its conclusion.
Extradition
In a tweet the day before the UN decision, Assange said he would "accept arrest by British police on Friday if UN rules against me."
Assange: I will accept arrest by British police on Friday if UN rules against me. More info: https://t.co/Mb6gXlz7QSpic.twitter.com/mffVsqKj5w

— WikiLeaks (@wikileaks) February 4, 2016
Britain, meanwhile, maintains the 44-year-old Australian national will be arrested if he leaves the embassy while a European Arrest Warrant is in place.