Ferrari speed machine set to become the most expensive car ever
Comments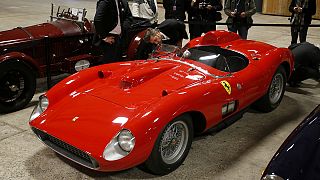 A 1957 Ferrari 335 S Spider could well become the most expensive car ever sold when it goes up for auction in Paris.
Dig deep, this speed machine will certainly set the bank manager's heart racing – it could fetch up to 32 million euros organisers of the auction said.
One of the most iconic racing cars in the history of the sport, it is one of only four built by Ferrari factory, and allowed the Italian manufacturer to win the Constructors' World Championship title in 1957.
It belonged to Frenchman Pierre Bardinon, one of the biggest Ferrari collectors who owned some 50 models produced by the Italian maker and who even had a private track built in central France to enjoy them.
Another Ferrari in the auction, which is seen fetching up to 12 million euros, is a 1963 250 GT Berlinetta, considered by many to be the most beautiful Gran Turismo car.
Also available, a silver 1986 Testarossa which belonged to Italian car manufacturer Fiat's patriarch, Gianni Agnelli, with an estimated price of 680,000 to 900,000 euros.