Brazil in crisis as Zika fears mount
Comments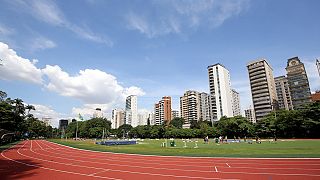 In exactly six months, the summer Olympic Games will open in Rio de Janeiro. Even though some 500 millions de dollars have been axed to balance the budget, the installations are between 80 and 90 percent complete.
But there are other dangers, beyond financial, are threatening the first South American city to host the event.
Since May last year the Zika epidemic has spread from Brazil's north-east bringing fear in almost equal measure because of the number of microcephaly cases.
Solange Ferreira was infected with the Zika virus during the fourth month of her pregnancy and her child, Bonito, was born severely disabled.
"I accept other things but to be blind and paralysed is sad. I don't want that for him," said Ferreira.
More than 4,000 children have been born with this malformation. Although the link between Zika and birth defects is still only "strongly suspected" it's heaped pressure on Brazil's President Dilma Rousseff, who's already under fire over corruption allegations.
In a televised address she said: "We will do everything to support children affected by microcephaly and their families. We are mobilising the public health network and assistance network and all necessary resources to help them take care of the children affected by microcephaly."
The Zika outbreak has also come at an extremely bad time as Brazil battles against a severe downturn in its economy which has led to its deepest recession in a century.
Almost 1.5 million people were made jobless last year. Brazil's GDP contracted by 3,7% en 2015 and is predicted to fall a further three per cent this year.Unemployment currently stands at 10% (2015) and inflation is a whopping 11% (2015)
The impact of the Zika outbreak could be even more devastating as tourism represents 10 percent of the country's GDP. If tourists stay away from the Carnival and most of all the summer games some estimates suggest Brazil's GDP may slide another two percent.