The final curtain at Paris Opera Ballet for Black Swan choreographer
Comments
By
Euronews
with
Reuters, New York Times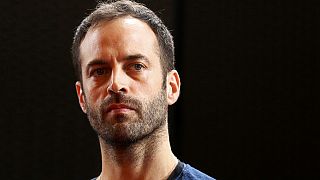 Benjamin Millepied jetéd into international stardom with the 2010 ballet drama Black Swan before taking the reins at Paris Opera Ballet four years later.
But now the French choreographer has announced he will take his final curtain as director of dance at the company in July.
The news came a day before the world premiere of "La nuit s'achève" )"The Night Ends") — a ballet he choreographed — opens in Paris.
Benjamin Millepied, le très glamour directeur de la danse du Ballet de l'Opéra, démissionnehttps://t.co/aFUzrdGcfepic.twitter.com/tRNVivU3NG

— les inrocks (@lesinrocks) February 4, 2016
What next?
Millepied married Hollywood actress Natalie Portman after collaborating with her on the Oscar-winning Black Swan.
Reports suggest the couple will return to Los Angeles, where they were based before moving to the French capital.
He is expected to focus on the LA Dance Project, an ensemble he put together in 2011.
Benjamin Millepied is stepping down from the Paris Opera Ballet after just over a year https://t.co/CGzyZZlF9kpic.twitter.com/2jUyMPhFfc

— The New York Times (@nytimes) February 4, 2016
Who next?
The former New York City Ballet dancer saluted the appointment of Aurélie Dupont as his successor, but added:
"Above all what's important for me is to create, to give, to be inspired by the dancers, that's what has motivated my desire to evolve in the ballet. And today such as this job exists, it's not for me, it doesn't suit me."
Speaking of Millepied's 14 months in charge, Dupont — the former principal ballerina and current ballet mistress at the Paris Opera — said:
"He brought a lot of contemporary choreographers… and new choreographic experiences.
"For me the Paris Opera remains a classical dance company, with an open mind about contemporary dance, and not the other way around. With me, the Opera will never be a contemporary dance company which occasionally does classical ballet."
"The company is an old lady, who must be respected. It cannot be changed straightaway."
Breaking: @B_Millepied to leave @BalletOParis, Aurélie Dupont to take over: https://t.co/56LFhOaT9t (PC A Poupeney) pic.twitter.com/JAKivV0ts9

— Dance Magazine (@Dance_Magazine) February 4, 2016