The threat of the Zika virus to tourism in Brazil in Olympic year
Comments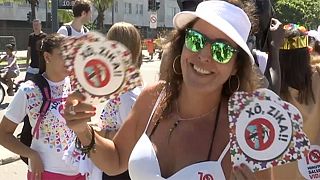 It has arrived in Olympic year – the Zika virus. In six months the Games will open in Rio. Brazil is facing an epidemic and the only means available to fight it is prevention.
The mosquito-borne virus has been linked to birth defects in thousands of new born babies. The government is recommending pregnant women to stay away.
"Daily and every 20 minutes I apply insect repellent. I try to wear long clothes, but in the heat it is very difficult," explained one pregnant woman.
The World Health Organisation has declared the virus an international health emergency that could affect as many as four million people in the Americas.
The rapid spread of Zika has raised concerns among the Rio Olympic organising committee. It said it will follow travel guidelines issued by the WHO.
The committee stressed there is no risk to the athletes or spectators – except pregnant women. It believes the August weather will reduce cases of the virus.
"This is not the rainy period for us, so historically speaking, the chance to have a wide risk for Zika contamination during the Olympics at this time is not so important," Joao Grangeiro, director or medical services for Rio 2016 organising committee told reporters.
The committee pointed out it has not seen any evidence of people cancelling travel to the Olympics. But airlines are starting to offer refunds or date changes to pregnant women who plan to go to any of the affected countries.
It appears there has been no impact to date on the tourist trade in Brazil where the epidemic began in May 2015.
"Well, what we hear on the news in Europe, it scares you but it doesn't stop people from coming, you know. Beautiful place to come to," said British tourist Peter Vidal.
It's reported that there has been an increase in tourists taking out insurance should they decide to cancel their trip.
Brazil is stepping up its fight against the country's growing public health crisis. From next week mandatory reporting of cases by local authorities will come into force by which time most states will have labs equipped to test for the virus.
The virus has spread to 25 countries in the Americas. Only Chile and Canada have not been affected according to the WHO.
The Brazilian government suspects the virus was brought to the country during the 2014 soccer World Cup by a visitor from Africa or Oceania where Zika is endemic.