Surfing: Slater wins for first time in two years
Comments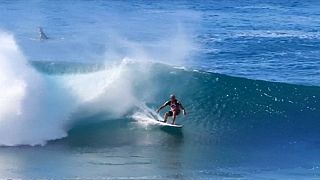 Eleven-times world champion Kelly Slater proved he could still mixed it up with the young guns after he won the Volcom Pipe Pro surfing contest in Hawaii.
The victory on the Banzai Pipeline of Oahu's North Shore was a first in two years for the US Surfer, who celebrates his 44th birthday next week.
Slater said: "My favourite moment to be honest is when the buzzer went and I was in first place. It's so satisfying to have such good waves and actually win. And like I said I haven't won in a long time so I was just really relieved. And it is one of those ones that I am going to look back on and say 'gosh, I can't believe we got those waves and I got first place'."
Local surfer Jamie O'Brien used the fine eight to 12 foot waves on the reef to take second place in this qualifying event for this season's World Surf League which starts next month on the Gold Coast, Australia.
Fellow Hawaiians Makai McNamara and Bruce Irons completed the top four in this battle of the pipeline heavyweights.