McCollum stars as Portland beat the Bucks
Comments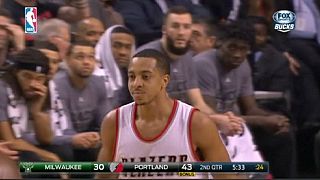 The Portland Trailblazers stretched their winning streak to a season-high five games as they beat the Milwaukee Bucks at the Moda Center in Portland.
CJ McCollum starred for the home side who burst out of the blocks to lead 27-19 at the end of the first.
The Bucks improved somewhat in the second quarter thanks to Jerryd Bayless, Khris Middleton and
Giannis Antetokounmp.
Portland's defence faltered early in the third quarter which paved a way for the Bucks to get to within one point, but that was as good as it got for the visitors as McCollum took over the show to inspire his side to a 107-95 victory.
The 24-year old point guard ended the night with a game-high 30 points while Damian Lillard chipped in with a respectable 14 points and 12 assists for his 11th double-double of the season.
As Portland enjoyed their fifth straight win the Bucks suffered their fourth straight defeat and sixth loss in their past seven outings.