Formula One: Renault present car and team for 2016
Comments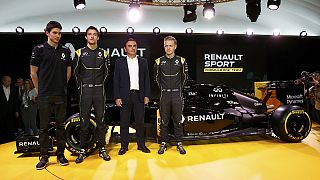 Renault took the wraps off its Formula One challenger, the RS16, on Wednesday as the French car manufacturer returns to motorsport's elite class for the first time since 2010.
Renault return to the F1 fold after agreeing to take over Lotus, which had struggled with financial costs last season.
Renault has no such financial problems according to CEO Carlos Ghosn, who is also under no illusion of the difficult task ahead to compete with the sport's dominant forces, but remains optimistic.
He said: "We are coming back at the moment where the company is in good health. It (the company) is capable to accept this effort as an investment to the brand and we have goals that we consider as difficult, but feasible – to come back on podiums in the next three years."
Former McLaren driver Kevin Magnussen and British debutant Jolyon Palmer will be the drivers for Renault who after pulling out in 2010 served as an engine supplier, helping Red Bull win four straight titles.
The 2016 season begins in Australia on 20 March and finishes in Abu Dhabi on 27 November.