Border blockade - Greek farmers protest over pension reforms
Comments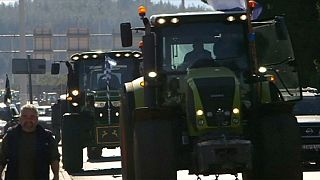 Angry farmers in Greece blocked the country's borders and main motorways on Tuesday (Feb 2) in an ongoing dispute with the government over planned pension changes.
More than 6000 tractors have blocked the country's highways for brief periods of time in the last two weeks as a warning to the government, and will decide on Sunday (Feb 7) whether to step up their protests and bring the country to a complete standstill.
Agricultural workers have been particularly hit by broader reforms demanded by Greece's international lenders in return for an 86 billion euro bailout.
"The lenders are demanding specific reforms which are the tombstone of the farmers' graves. We will not let this government nor any other political party bury us. We will stay here, and anywhere else that is needed, to fight. Today's (protest) is just a warning of what we are capable of doing," said Mavroudis Minsioudis, speaking for his farming colleagues..
Border standstill
Bulgarian Prime Minister Boiko Borisov reportedly telephoned his Greek counterpart Alexis Tsipras urging him to take steps and provide a corridor for transit passage of trucks that are blocked along the Greek-Bulgarian border.
Borisov is said to have told Tsipras that over 1,800 trucks were blocked on the two sides at Bulgarian-Greek checkpoints, with transport companies facing huge losses.
Greek farmers say their government's new pensions system will require a tripling of social security contributions while at the same time income tax is set to double. One said it would mean the government keeping 85 percent of his income.
Greece's labour ministry says more than 80 percent of farmers declare an annual income of less than 5,000 euros.
The government claims it is flexible to changes but without reform, farmers will be left without any pension.
The reforms are key for the conclusion of the country's first bailout review which Prime Minister Alexis Tsipras' coalition wants to conclude swiftly in order to start talks on debt relief. A vote on the measures is expected to test his fragile three seat majority in parliament.
Greece's largest private sector labour union GSEE and its public sector counterpart ADEDY, which together represent about 2.5 million workers and pensioners, will stage a 24-hour nationwide strike over the planned reforms on February 4.