'Mad Max' director George Miller invited to head Cannes jury
Comments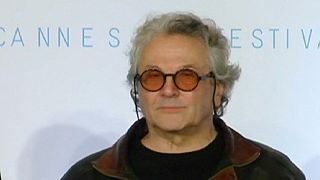 The Cannes Film Festival has invited "Mad Max" director George Miller to preside over this year's jury and award France's equivalent of the Oscars, the Palme d'Or.
The festival said on Tuesday (February 2) that choosing the Australian director, screenwriter and producer, was a celebration of genre cinema.
Miller's films defy easy categorization, from the apocalyptic "Mad Max" series to "The Witches of Eastwick," the drama "Lorenzo's Oil," children's classic "Babe" (which he produced and co-wrote with director Chris Noonan) and "Happy Feet."
As head of the jury, Miller will set the tone for the extravagant festival in France's Cote d'Azur, which runs from May 11-22.
It will be the second year in a row on the Croisette for the Oscar nominated director – his 10-time Oscar nominated "Mad Max: Fury Road" was unveiled at the festival in 2015.
The great George Miller. Even before Mad Max, a happy chap… even as a baby! pic.twitter.com/8HAVVurWrq

— Duncan Jones (@ManMadeMoon) February 1, 2016
APTN