Greece creates more migrant registration centres
Comments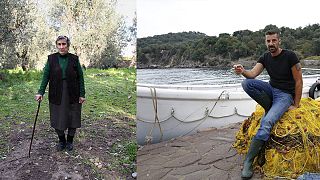 Greece is setting up two new registration centres for migrants arriving on its island of Lesbos. Its partly in response to EU criticism that inadequate procedures have been making identification of refugees impossible.
Container units are being equipped to make the process faster and more humane. At its height in the summer more than 9000 people arrived in one day needing to be processed.
Anthi Karageli who is the director of Moria Refugee Camp explained:
"Each container will have everything's that needed in order for the station to be able to register 1,000 to 1,100 people a day."
Greek compassion
Emilia Kamvisi is an 85-year-old grandmother living on Lesbos. She has seen at first hand the tragic consequences of migrants who risk the treacherous boat journeys from Turkey.
Together with her neighbours she has helped where she can including bottlefeeding a Syrian baby rescued last autumn. She is now among three others who have been nominated for the Nobel Peace Prize.
Fisherman Stratis Valiamos who has rescued scores of refugees from drowning off the Lesbos coast has also been nominated.
For more on the story of the Nobel Peace Prize nominees click here.
https://t.co/oKJbvxQRQm
For once nominations actually make sense! Hurrah

— Devil In This Guise (@mishmashmumu) January 25, 2016