France and Belgium call for Europe-wide strategy against jihadists
Comments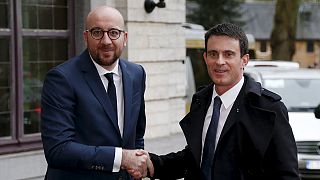 France and Belgium have called for a Europe-wide effort in the fight against Islamist extremists and for more cooperation between EU member states.
The bilateral initiative comes after a period of strained relations following French allegations that its neighbour Belgium had overlooked jihadists preparing to attack the French capital last November.
Belgian Prime Minister Charles Michel said Europe must adapt.
"We find, as we have seen in Belgium as well as in France, that there is a new form of threat in Europe, a new form which lies hidden but which has also become more professional and learnt from its past failures.
So we need to adapt, so we have to anticipate better, to be more determined, and to cooperate against this new form of threat."
French premier Manuel Valls wants to see a more rapid exchange of information between police forces on potential militants and an EU data base used to keep track on airline travellers.
"Europe must step up to the mark and show that it is capable of playing its part in the fight against terrorism and in the protection of its citizens. It must therefore organise itself to meet this challenge…. we don't need less Europe we need more Europe This involves all European institutions as well as all member states. "
Belgium has carried out a series of raids since the November Paris attacks and is currently holding 10 people on terrorism charges.