Doctors separate 'smallest-ever' conjoined twins
Comments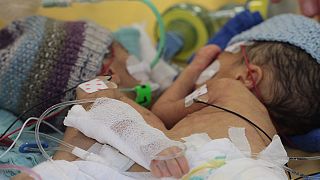 Doctors in Switzerland claim to have broken new medical ground by successfully separating two sisters.
Bern University Hospital says the babies, who were born eight weeks prematurely, are the smallest conjoined children to have been separated.
The two girls, part of triplets, were born on December 2.
They were conjoined at the liver and doctors had to move quickly when too much blood flowed from the organ into one of the babies.
It left one of the girls with a dangerously high blood pressure, and the other the opposite.
The operation to separate them happened on December 10, when they were just eight days old. Together the girls, reportedly named Lydia and Maya, weighed just 2.2 kilograms.
The third girl was born healthy.
The hospital said in a statement: "Such small conjoined siblings had never been successfully separated before. The livers of the two girls were extensively conjoined and the large blood vessels passing through the livers had to be separated.
"They had great problems because a very great amount of blood flowed from one child to another, through the liver."
Steffen Berger, head of paediatric surgery at the hospital, said: "The perfect teamwork of physicians and nursing personnel from various disciplines were the key to success here. We are very happy that the children and parents are faring so well now."