Cuba: Raul Castro on state visit to Paris
Comments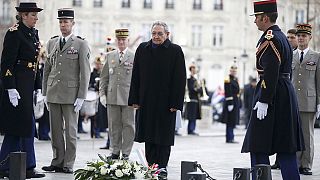 First visit by Cuban leader for two decades
Castro given full honours
Trade deals expected to be signed
The news
Raul Castro is visiting France.
This visit is important for Cuba's image
The two-day trip is the first to Europe by a Cuban leader for two decades.
Comienza hoy Raúl Visita de Estado a #Francia (+ Programa Oficial) https://t.co/gB5iMDGhWvcubadebate</a> <a href="https://twitter.com/hashtag/Cuba?src=hash">#Cuba</a> (via <a href="https://twitter.com/cubadebate">cubadebate)

— Raúl Castro Ruz (@RaulCastroR) February 1, 2016
Coopération et dette seront au programme de la visite d'Etat de Raul Castro la semaine prochaine à Paris #cubapic.twitter.com/gmcJzP3dnC

— Antoine Bathie (@antbathie) January 29, 2016
President Castro was received by French Environment Minister Segolene Royal
A state dinner with President Francois Hollande is also planned.
The Cuban delegation will also meet French business leaders and the head of UNESCO.
The deal
Analysts are viewing the trip as another step in the normalisation of Cuba's relations with the West.
The visit comes in the wake of a breakthrough deal signed in November that lightens Havana's foreign debt burden.
As Havana's biggest creditor, France played a key role in December in a debt relief deal between Cuba and the foreign governments it owes money to.
Its Paris Club creditors agreed to forgive $8.5 billion in late interest payments of Cuba's $11.9 billion in debt, including $4 billion in late payments due to France.
In pictures and tweets
RT SRodrigoteleSUR: Arco del Triunfo #París acoge acto oficial de visita presidencial de #Cuba a la República de … pic.twitter.com/wixBMFaqJZ

—

VTV

Canal8 (@VTVCanaI8) February 1, 2016
#Cuba'n flags adorn the streets of Paris one day ahead of Castro's state visit. pic.twitter.com/t3zGRf1Ipl

— Sanam Shantyaei (@SanamF24) January 31, 2016
#Cuba#France Visite officielle historique du Président Raul Castro à Paris pic.twitter.com/j4PNo7L5Fd

— salvatore (@salvatore300) February 1, 2016
https://t.co/2DKWqK4o4N Francetv info: Raul Castro débute sa visite officielle à Paris par l'Arc de Triomphe pic.twitter.com/DgQXpM5Ma0

— Cyber-Actu (@CyberActualite) February 1, 2016
French companies investing in Cuba
Pernod-Ricard (produces Havana Club Rhum)
Accor (hotels)
Bouygues (construction)
Alcatel-Lucent (telecommunications)
Total and Alstom (energy)
At 180 million euros per year, trade between Paris and Havana has been described as "very slight". (source:AFP)
Did you know?
In 2015, Francois Hollande became the first western head of state to visit Cuba since the 1959 revolution.
The French President visited in May.
What they are saying
"This visit is important for Cuba's image." – Eduardo Perera, University of Havana.
"It (the visit) is an additional gesture on France's part after forgiving the late interest payments." – an unidentified diplomatic source
"Trade is still not at the height of our ambitions." – French external trade minister Mathias Fekl.