Boko Haram burns children alive, kills more than 80 - reports
Comments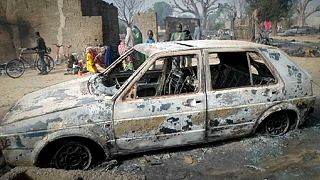 Charred corpses littered the streets of a village in north-eastern Nigeria after an attack by Boko Haram extremists that killed at least 80 people on Saturday night (January 30).
Authorities said the Islamist insurgents went on a four-hour long rampage, shooting at residents and fire-bombing their homes. A survivor told the Associated Press news agency he heard the screams of children burning to death.
Later, three female suicide bombers reportedly blew themselves up after making their way into a crowd of people who had managed to flee to a neighbouring village.
Saturday's attack unfolded in the village of Dalori, close to Maiduguri, a city home to most of the two million refugees who have fled the Islamist uprising in the region.
On Sunday, across the border, near Lake Chad, two more suicide bombings by suspected Boko Haram militants killed three people and wounded more than 50.