Italy: Gay dad calls for his partner to be given adoption rights
Comments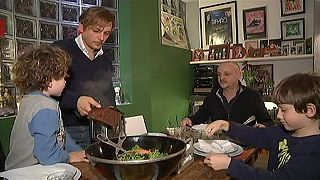 Every child should be raised by a mum and a dad?
Try telling that to Rome-based gay couple Marco Puccioni and Giampietro Preziosa, who are bringing up their twins, born to a surrogate mother in the United States.
The biological father of the children is Marco but he is hoping for a change in Italy's law, to grant his partner Giampietro legal adoption rights.
It is "a sort of protection, an insurance," Marco said.
"If something bad should happen, like a separation or a death, especially of the biological parent, which would be me, then the family could stay together."
Even if the law does recognise Giampietro's role in bringing up the children, Marco says his partner would have restricted rights.
"It is a very limited adoption. He would be David and Dennis' legal father. But his parents would not be their grandparents under the law. It is a partial adoption. It is not complete."
Draft legislation being debated in Italy would offer homosexual couples legal recognition and limited adoption rights.
The much-contested bill was presented to parliament last week and is due to be voted on in February.
At the centre of all of this, the twins are oblivious to the legal wrangling.
As Marco says: "Luckily children don't know about laws. They live in the real world."
Civil unions for #LGBT couples in #Italy could soon become reality https://t.co/NO7NprTnPC via @POLITICOEuropepic.twitter.com/MiADkx5c5A

— Amnesty EU (@AmnestyEU) 28 Janvier 2016