Germany: AfD leader calls for right of border police to shoot at illegal migrants
Comments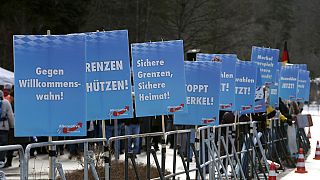 Frauke Petry, one of the leaders of right-wing German opposition party Alternative for Germany (AfD), has sparked outrage with provocative comments about refugees.
"Border guards must prevent illegal border crossings and even use firearms is necessary," Petry told German newspaper 'Mannheimer Morgen', in an interview published on Saturday.
No police officer wanted to shoot at a migrant, Petry said, adding "I don't want that either but, ultimately, deterrence includes the use of armed force."
Frauke Petry: Polizisten sollen im Extremfall auf Flüchtlinge schießen https://t.co/7RSoaR8hb9pic.twitter.com/MxSJ0xNg4Z

—

DIE

WELT

(@welt) January 30, 2016
Meanwhile, German Chancellor Angela Merkel appeared to be trying to be try to appease critics of her open-door policy on refugees.
"I hope that during the winter time, when refugee numbers are low, we will make visible progress. The numbers need to be reduced further, and they must not increase again in Spring," she said during an address at a regional Christian Democratic Union (CDU) party conference in Neubrandenburg on Saturday.
Merkel also repeated calls for a Europe-wide solution to address the crisis.
While the popularity of Merkel's conservative bloc has been slipping due to her policy on refugees, the AfD party's support has risen to double digits.