Analysis: Republican candidates try to escape Trump's shadow
Comments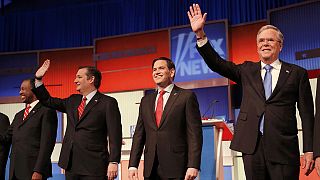 After having sucked the air out of past Republican debates, Donald Trump was still the elephant in the room – for about three minutes.
And that was until conservative Texas Senator Ted Cruz was asked right at the start what message Trump's self-chosen absence would send to the voters in Iowa.
Cruz answered by jokingly parroting Trump, the Republican frontrunner and his fiercest rival: "Let me say I'm a maniac and everyone on this stage is stupid, fat, and ugly. And Ben, you're a terrible surgeon. Now that we've gotten the Donald Trump portion out of the way…"
Indeed, Trump's name was only mentioned once or twice for the rest of the debate, in which the candidates had to find out what it's like to spar without the Trump bravado.
Who believed that a Republican debate stage would be boring without the real estate mogul's bluster and theatrics was wrong. The remaining candidates delivered a solid and at times aggressive performance, going after each other over immigration, ISIL and America's role in the world.
In an act of high political drama, Trump had boycotted the stage in Iowa, just four days before the caucuses there, because of a feud with debate host Fox News over a moderator who, Trump felt, was unfair to him.
With Trump skipping the debate and without the tension so characteristic in prior contests, the other candidates were able to escape his shadow. Some were more successful than others.
At one point, Cruz, who got to play frontrunner, complained that the moderators were directing all the other candidates to attack him. He was also on the defensive when Rubio, former Florida Governor Bush and Kentucky Senator Rand Paul assailed him on his hardline stance on immigration.
Cruz faced a particularly strong barrage of criticism from Rubio in the debate, with the Florida senator saying Cruz's campaign was based on a "lie" of him being the most conservative on immigration, accusing Cruz of flip-flipping on the issue, saying, "now, you want to trump Trump on immigration."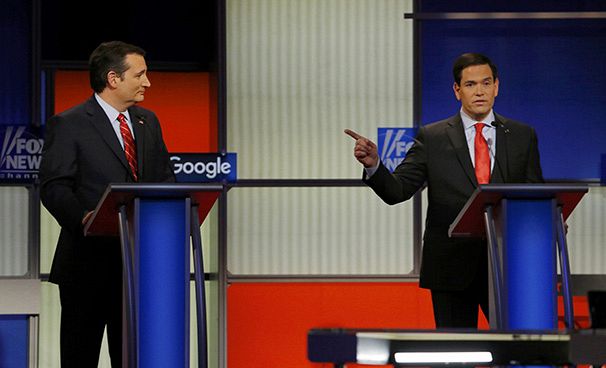 For Rubio, though, the Trump-less debate brought new scrutiny of his own record, which included his failed effort at immigration reform.
Rubio pursued an "earned path to citizenship" for undocumented immigrants, then backed away from his own bill. That brought an attack from Bush, Rubio's former mentor and now rival.
"He led the charge to finally fix this immigration problem," Bush said. "And then he cut and run, because I guess it wasn't popular among conservatives."
"You used to support an earned path to citizenship," Rubio retorted. "So did you," Bush said. "So did you, Marco."
Rubio was the leading foreign-policy hawk on the stage, turning many questions back to the subject of the Islamic State, and his plans for stepped-up government surveillance and more detentions of terrorism suspects at Guantanamo Bay, Cuba.
Former Florida governor Jeb Bush – a frequent target of Trump's taunts – got time to defend his family and his status as member of the hated "establishment." "Fine, I'll take it. I guess I'm part of the establishment because Barbara Bush is my mom," Bush said.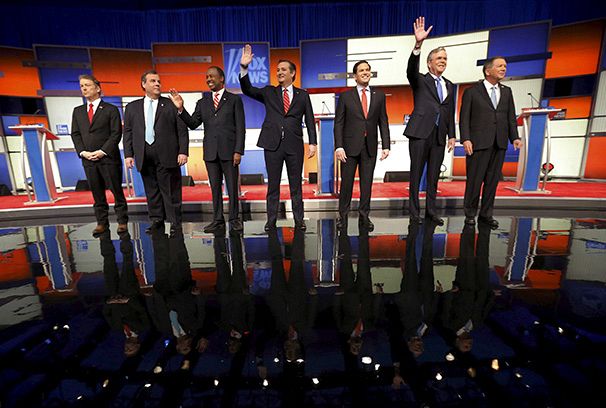 Also on the stage were Ohio Governor John Kasich, New Jersey Governor Chris Christie and retired neurosurgeon Ben Carson. None of them was able to create any memorable impact.
Perhaps the most awkward moment came when Carson, in his closing statement and without further comment, recited the first paragraph of the US constitution of 1787.
Meanwhile, Trump held his own event just minutes away from the Des Moines debate venue, a hastily organized a fundraiser for veterans.
"I didn't want to be here. I wanted to be about 4 minutes away," he said, referring to the debate. But he said he had to take a stand.
"You have to stick up for your rights. When you are treated badly, you have to do it. You have to stick up for your rights," Trump said.