Plea for cash as Ethiopia battles one of its worst droughts in decades
Comments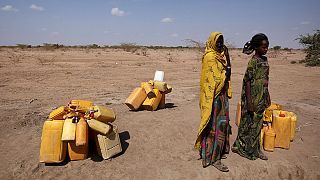 More than 450 million euros needs to be raised by the end of next month to help Ethiopia through critical food shortages.
That is the warning from the UN, as the country battles one of its worst droughts in decades.
In some parts, it eclipses the 1984 crisis – when famine killed an estimated one million people.
Charities says cash support is in short supply.
"This is, by far, the worst response from the international community I have ever seen," said John Gram, from Save the Children.
"There is a lot of other competing crises I guess out there, certainly Syria and the migration crisis, that take a lot of attention. And so, we haven't seen the attention paid to Ethiopia even though the number of people affected is far larger than any previous drought in Ethiopia. Far larger than even in 1984."
The scale of the current drought in Ethiopia is blamed on the El Nino weather phenomenon.
Almost 1.3 billion euros is expected to be spent on aid this year, covering food and other requirements.