Hungarian court acquits managers over deadly alumina reservoir spill
Comments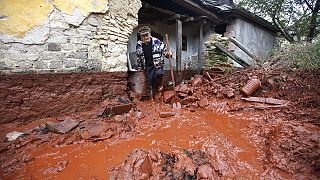 Fifteen people tried in connection with a toxic spill from an alumina reservoir in western Hungary in 2010 have been acquitted.
Ten people were killed in what was one of the country's worst environmental disasters.
Toxic red mud destroyed hundreds of homes, it took years to clean up and cost more than a hundred million euros.
MAL Corp, the aluminium smelting company that owned the faulty reservoir, was subsequently taken over by the government, which declared it responsible for the incident and began to close it down. It is still under liquidation.
But in a first instance ruling, the court in the western town of Veszprem said executives and top employees of MAL had not been criminally negligent, nor had they committed other crimes they were charged with during the 40-month legal procedure.
It was not immediately clear whether prosecutors would appeal the verdict.