Challenger disaster: space crew remembered 30 years on
Comments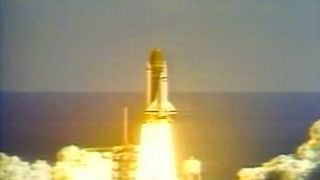 Hundreds have gathered at the Kennedy Space Centre in Florida to remember the victims of the Challenger shuttle disaster, 30 years on.
Six astronauts and a teacher were killed when the space shuttle exploded during lift off in January 1986.
The names of the dead were read out during the memorial service.
The flight, in January 1986, lasted just 73 seconds after a rubber seal in one of the shuttle's twin booster rockets failed, triggering an explosion.
The disaster exposed design shortcomings and operational problems in the US space programme.
The crew of the Challenger included: Mission Commander Francis (Dick) Scobee, Gregory Jarvis, Judith A. Resnik, Ronald E. McNair, Mike J. Smith, Ellison Onizuka and Christa McAuliffe.
NASA also paid tribute to the crews of Apollo 1 and space shuttle Columbia.