Cyprus, Israel and Greece talk regional issues
Comments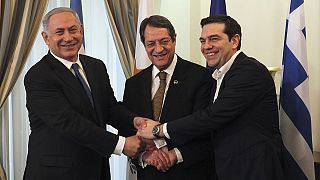 Following a number of bilateral agreements signed in Tel Aviv on Wednesday between the Israeli and Greek prime ministers, the two men have traveled to Cyprus for trilateral meetings with the President of Cyprus
.
Israel's deals with the Greeks include agreements on innovation, economic co-operation and energy.
One of the biggest deals implicates Cyprus. That is because a project known as the EuroAsia connector involving a high-voltage electric cable connecting Israel with the European mainland runs via the island.
However Cyprus's President Nicos Anastasiades will be looking beyond euros and cents, and regional issues are vital for the divided island, which is trying to clinch a long drawn-out peace process with the Turkish Cypriots.
Greece, Israel, the Cypriots and Turks all have potential offshore riches in Mediterranean gas ready to extract, but only if the region is at peace.