Shaquille O'Neal joins street basketball game
Comments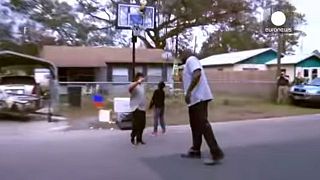 Called out to a noise complaint, Florida police officer Bobby White had won over the alleged perpetrators and the internet by joining in a street basketball game instead of issuing a reprimand.
At the end of the game he promised a rematch and managed to surpass himself a few days later by turning up with NBA legend Shaquille O'Neal.
The 43-year-old former basketball pro chatted with locals after the game, adding further fuel to the Twitter hashtag #Hoopsnotcrime.
This is what it's all about! #HoopsNotCrime#ICYMIhttps://t.co/Jelk8qkM2k

— Harlem Globetrotters (@Globies) January 25, 2016