Israeli PM says UN Secretary General's words 'bolster terrorism'
Comments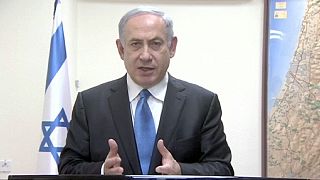 Israeli Prime Minister Benjamin Netanyahu has accused UN Secretary-General Ban Ki-moon of bolstering terrorism with comments he made about plans to build more Jewish homes on the West Bank.
On Tuesday Ban said increasing the settler population would further heighten tensions and undermine prospects of a political solution:
"Continued settlement activities are an affront to the Palestinian people and to the international community. I am deeply troubled by reports today that the Israeli government has approved plans for over 150 new homes in illegal settlements in the occupied West Bank."
The US Ambassador to the United Nations, Samantha Power, said Washington also strongly opposed settlement activity, but Israel has dismissed Ban's remarks.
"The words of the Secretary-General only bolster terrorism," said Israeli Prime Minister Benjamin Netanyahu. "There is no justification for terrorism, period. The Palestinian murderers do not want to build a state. They want to destroy a state as they declare publicly. The UN has long ago lost its neutrality and its moral powers and these words by the Secretary-General don't help its case."
Israel has confirmed that it will appropriate another large area of land on the West Bank near to where it already has many settlements on land that "Palestinians seek for a state"http://www.euronews.com/2014/12/17/palestinian-statehood-the-road-ahead/.
Palestinians want their own state on land covered by West Bank, Gaza and East Jerusalem, all areas captured by Israel in the 1967 war.
The last round of peace talks broke down in April 2014.
"A lasting agreement will require difficult compromises by both Israeli & Palestinian leaders" Ban Ki-moon pic.twitter.com/ovHpjFAlIf

— UN Spokesperson (@UN_Spokesperson) January 26, 2016