Russia economy shrank 3.7% in 2015, inflation up 13%, retail sales fall 10%
Comments
By
Euronews
with
REUTERS TV, EURONEWS BUSINESS TEAM (NATALIA)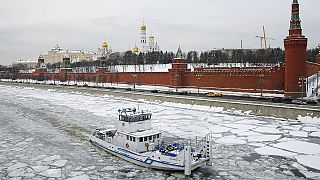 Collapsing oil prices continue to hammer the value of the Russian currency – the rouble – as inflation there pushes upwards and people cut back on purchases.
I have to save money, not make expensive purchases, to buy cheaper goods, less food
The numbers are stark. Last year Russia's economy contracted by 3.7 percent according to figures released on Monday by the government statistics service in Moscow. They said retail sales fell by 10 percent and capital investment by 8.4 percent in 2015.
Irina Lobanova of the National Agency for Financial Studies said: "Consumer habits and demand are changing. In general, of course, the consumer market is shrinking, because purchasing power is getting weaker and incomes decreasing."
With inflation running at 12.9 percent for last year, surveys show 70 percent of people saying they are cutting back.
Moscow resident Alexei told us: "I have to save money, not make expensive purchases, to buy cheaper goods, less food, etc."
Nearly 40 percent of Russians surveyed said they now earn only enough for food, up from 22 percent in 2014. Food is the priority, not fancy gadgets as a seller of mobile phones in Moscow explained: "People are trying to save money, not knowing what to expect in the future. So there are fewer customers, they buy less, saving money."
Even as ordinary Russians quality of life falls amid economic contraction, President Vladimir Putin's popularity remains high, according to opinion polls up to 89 percent of people approve of his activity as president.
On Monday Putin said that Russia's government should "carefully" use its "rainy day" reserve funds now when low oil and other commodity prices have dented budget revenues.
"This is just what these reserve funds are meant for – to finance social obligations at a time of economic decline – and this is what we will certainly do," he said during a visit to the Stavropol region in southern Russia. He did not specify what funds he was referring to.