Polar explorer Henry Worsley dies trying to reach his dream
Comments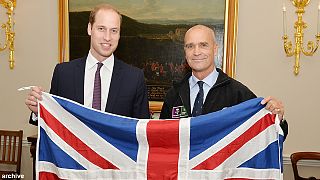 Tributes have poured in for the British explorer Henry Worsley who has died after falling ill just 50 km short of attempting to become the first person to cross Antarctica unsupported and unaided.
His death on Sunday following complete organ failure was announced on Monday by his wife who said she was heart broken.
British man attempting to trek alone across Antarctica dies https://t.co/4×1DIataIJ

— Pierre Nehme (@pierrenehme4) January 25, 2016
Britain's Prince William has expressed his sorrow and admiration for Worsley who had been raising money for the Endeavour Fund, a charity which helps wounded servicemen and women and is managed by Prince William and his brother Prince Harry.
The polar explorer died in hospital in Chile to where he'd been airlifted off the ice. The doctor in charge of his care, Juan Panlo Ormayabal explained that Worsley had been suffering from Peritonitis ( it is an inflammation of the peritoneum, a thin layer of tissue that lines the inside of the abdomen):
"The patient was admitted in a state of very advanced peritonitis. He'd apparently been struggling with symptoms for approximately four days.
He was treated immediately but the development of the illness meant his prognosis had been very ominous."
Fifty-five year-old Worsley had been trying to complete the unfinished journey of his hero, Sir Ernest Shackleton, 100 years later, but in his final audio, message he said " it is with some sadness that like Shackleton I too have shot my bolt."
The plan was to cross the continent "unassisted and unsupported" – with no supply drops or help from dogs or any other source.
The first solo and unsupported crossing of the continent was achieved by Norwegian Borge Ousland in 1997. But Worsley's record attempt differed as Ousland used a kite to help drag his supply sled.
British explorer Felicity Aston became the first woman to cross the Antarctic alone in January 2012 but she had supply drops.
Brave man, heroic to end: 'My journey is at an end' Antarctic explorer Worsley dies 48km short of goal https://t.co/GwJQ7SRaAg via nzherald</a></p>&mdash; Jon Lee Anderson (jonleeanderson) January 25, 2016