Former Israel PM Shimon Peres back in hospital with chest pains
Comments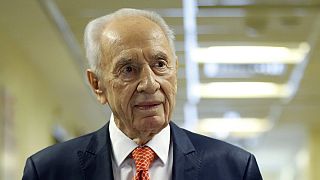 Former Israeli prime minister Shimon Peres was admitted to hospital on Sunday for the second time in as many weeks.
His doctor said the 92-year-old had been complaining of chest pains.
Peres, who was released from hospital last week after suffering a mild heart attack on January 14, was conscious and the hospitalisation was a precautionary measure, Peres's personal physician, Rafi Walden, told reporters.
"This evening he felt a slight discomfort and we diagnosed that he has some difficulty with the rhythm of the heart which is called atrial fibrillation. He was taken to hospital … and this is over already spontaneously without even the need for any treatment," said Rafi Walden, who is also Peres's son-in-law.
Nobel Peace Prize Laureate
Shimon Peres won the Nobel Peace Prize in 1983 with Yitzhak Rabin and Yasser Arafat for his role in setting up an interim peace deal with the Palestinians.
Polish-born Peres served three times as prime minister of Israel..
He then went on to be the first prime minister of Israel to be elected as president, serving from 2007 to 2014.
A week after suffering a heart attack, ex-Israeli President Shimon Peres is back in hospital https://t.co/0EDxvIhDC9pic.twitter.com/ZiCQyIXPzd

— Chicago Tribune (@chicagotribune) January 24, 2016