Canada: Teenage shooting suspect charged with first degree murder
Comments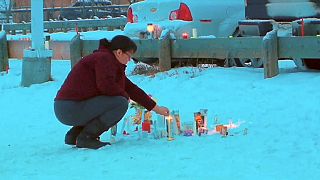 A 17-year-old is facing first degree murder charges after two schoolteachers and two teenage brothers were shot dead in the remote Canadian community of La Loche on Friday.
The suspect is also accused of attempted murder and unauthorised possession of a firearm following the shootings, that left seven people at the local school injured.
There is still no indication as to the motive behind the carnage which was signalled by a message in a Facebook chat.
It read 'Just killed 2 ppl. bout to shoot ip (sic) the school.'
The first two shooting victims, found at a house in the mainly indigenous town in the western province of Saskatchewan, were 17-year-old Dayne Fontaine and his 13-year-old brother Drayden.
The gunman then went to La Loche Community School where teacher Adam Wood, 35, and teaching assistant Marie Janvier, 21, were also shot dead. Seven people were injured before the suspect was disarmed and arrested.
4 lives cut short: Profiles emerge of La Loche shooting victims https://t.co/1oGvpkkrGgpic.twitter.com/VGrQudp6TW

— CBC News (@CBCNews) 24 Janvier 2016
The 17-year-old, who can't be named under Canada's Youth Criminal Justice Act, is due in court next week.