US: Joe Biden slams Turkey for 'poor example' of freedom of expression
Comments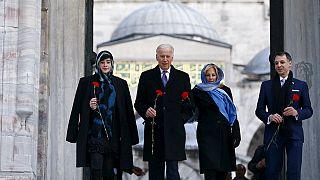 US Vice President Joe Biden has criticised Turkey for "setting a poor example" in the region concerning freedom of expression.
The damning comments came at the start of a two-day visit to the NATO ally, which will see Biden meet Turkish President Recep Tayyip Erdogan and Prime Minister Ahmet Davutoglu.
Pre-presidency, during Erdogan's early years as Prime Minister of Turkey, the US highlighted the country as an example of a functioning Islamic State.
Earlier reforms have since faltered, with Erdogan adopting a more authoritarian political style.
Freedom of expression
Turkish media say Biden met the wife of a journalist jailed in November, 2015, for publishing footage alleging to show the state intelligence agency helping send arms to Syria.
He also met journalists who had been fired after criticising the Turkish president and government.
Paying tribute
Along with his wife, Jill, Biden visited the area surrounding Istanbul's famous Blue Mosque, where they paid tribute to the victims of a suicide bombing which took place there earlier this month. The attack was attributed to ISIL.
Meeting MPs
Biden used the opportunity to meet MPs representing Turkey south east – regions lying near the border with Syria.
The nationalist MHP, which only has one MP in the region, did not join the talks. However, representatives from the ruling AKP, opposition CHP and pro-Kurdish HDP were all in attendance.
There, the US vice president urged the parties to separate the PKK Kurdistan Workers' Party — which is considered a terrorist organisation by Turkey, the US and NATO — from the PYD Democratic Union Party, in northern Syria. The Turkish government labels both terrorist groups.