Poles protest against government surveillance plans
Comments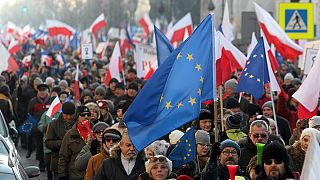 Thousands of demonstrators took the streets across Poland on Saturday to protest against a government plan to increase surveillance powers.
Critics of the proposed measures say they will undermine citizens' privacy rights and are demanding the Law and Justice party withdraw the proposals.
"There's no terrorism in Poland," said Jaroslaw Kurski, Deputy Editor-in-chief of Gazeta Wyborcza. "It's just a false pretext to control citizens, to control people, to reinforce their power."
"There would be no free media and there are other threats like the internet can be watched over by the secret police," said another protester. "These are the kind of threats."
An estimated 10,000 people gathered in front of the Warsaw office of Prime Minister Beata Szydlo, before marching on to the palace of President Andrzej Duda.
The demonstrations are the latest in a series of protests at what critics say are anti-democratic policies being introduced by the right-wing government that was elected last November.
The European Union is assessing whether or not the Polish government's new laws on the Constitutional Court and media violate EU principles on the rule of law.
If they do then Poland risks losing its EU voting rights.