Collective responsibility key to addressing refugee crisis, says Swedish prime minister
Comments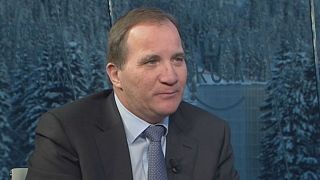 Kjell Stefan Lofven has been the Prime Minister of Sweden since 2014 and the leader of the Social Democrats in the country since 2012.
In this wide ranging interview with euronews the 58-year-old politician addresses the impact of the migrant crisis on Sweden and the issues it has raised in the European Union. He is clear that dealing with the problems should be done on a collective basis.
"We have to find a way to cooperate, finally it is about shared responsibility. If we share responsibility we can handle it," he said.
The PM gives his opinion on 'Brexit' and if he believes Great Britain should leave the European Union.
"From a Swedish point of view we have stated clearly we think it is very important that Britain stays within the European Union. It would be bad for Britain but also bad for Europe because they are an important part of the European Union," he stressed.
Who is Stefan Löfven?
Stefan Löfven was elected Prime Minister in 2014
He became leader of the Social Democrats in 2012
Löfven was previously president of the IF Metall Union, a metal workers union
Löfven grew up as foster child in a working-class in northeastern Sweden
On what he believes makes a successful country the PM says inclusiveness is essential.
"One thing is to make sure the society is built for everybody. It is an inclusive society where everybody can feel, 'yes I can develop my freedom, I feel safe in this country, I have a future, I have a bright future, the possibility of a bright future. It is up to me. I have to do my own part of this. But I know I have this possibility'."