Oklahoma City cop gets life for two-year sexual assault rampage
Comments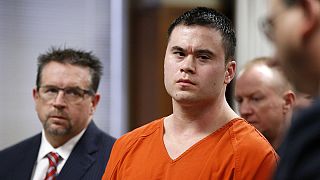 Former Oklahoma City police officer Daniel Holtzclaw has been sentenced to life for raping and sexually victimising African-American women.
Last month he was found guilty of 18 offences in total. On Friday he was given a 263-year sentence.
The crimes were committed over a two-year period on Hotlzclaw's beat, a poor district of the city.
Prosecutors said Holtzclaw preyed on women who had trouble with the law and forced
them into sex, hoping their word would not hold up against his in court.
Holtzclaw was fired from his job in January 2015 after three years as a police officer. He began committing his offences in 2013.
Thirteen women testified at his trial with the shocking details of his behaviour, which many said they had never expected to see from a police officer. All said their lives had been changed forever by the assaults.