Myanmar begins releasing political prisoners
Comments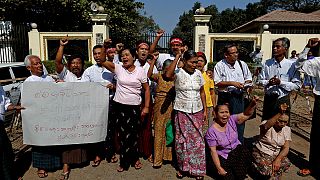 Myanmar said on Friday that it was freeing around 100 people from jail – just days before the first sitting of a new parliament dominated by the party of democracy champion Aung San Suu Kyi.
Newly-released Aung Min Kyaw, one of the dozens of political prisoners said to be on the release list, wants freedom for others still behind bars.
"I am not totally happy," he said.
"I want all the activists, political prisoners, students, farmers and workers still left behind in prison."
Philip Blackwood, a New Zealander jailed for insulting Buddhism, was among those being released.
The bar manager and two Myanmar colleagues were sentenced to two and a half years last March
for using a psychedelic image of Buddha wearing headphones to promote their bar.
#Myanmar to release dozens of political prisoners https://t.co/OJ0rw3Gqgipic.twitter.com/e8hIIjyd0s

— dwnews (@dwnews) 22 Janvier 2016
Visiting Myanmar on Monday, US Assistant Secretary of State Antony Blinken had urged the former Burma to free all of its political prisoners.
But with that still not the case, released inmates and relatives gathered to protest outside Yangon's Insein prison, one of the largest and most notorious in the country.
Hope however is growing.
"I strongly believe that things will be alright because our country is now under our mother," said political prisoner Bo Thein, 55, referring to Aung San Suu Kyi.
"This will be different."
After decades of military rule followed by a semi-civilian government, many believe things will be different from February 1.
The National League for Democracy, led by Myanmar's most famous former prisoner of conscience Aung San Suu Kyi, will then make its presence felt in the new parliament – in another landmark moment, after its historic election win in November.