Thousands of Moldovans protest over appointment of new PM
Comments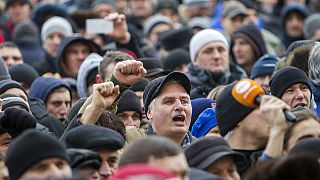 Thousands of protesters have taken to the streets of the Moldovan capital Chisinau, to vent their anger over the appointment of Prime Minister Pavel Filip.
He has been sworn in with the hope of ending months of political stalemate.
The previous government was toppled in a no-confidence vote in October.
But many are fed up with what they see as a corrupt ruling class and a drop in living standards.
"They are able to poison the whole population now, only for them to gain power. They know that if we, the people, take the power, they'll all end up in jail," said one protester.
Another demonstrator added: "They are committing genocide. We can't take it any longer. I'm sorry that our people are divided, lost, ignorant."
On Wednesday, scuffles broke out between police and protesters who stormed the parliament, injuring 15 people.
Moldova had five prime ministers last year and there were weeks of protests after almost 1.4 billion euros disappeared from three banks.