Palin calls for voters to "stump for Trump"
Comments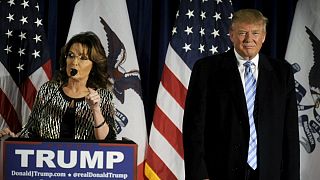 Former Alaskan governor turned reality TV star, Sarah Palin has endorsed Donald Trump's Republican presidential bid calling on people to "stump for Trump" at a campaign rally in Iowa.
Both were in the city of Ames in Iowa ahead of February 1 which is the date set for the Iowa caucuses for both parties when voters will get their first say in the nomination race.
Although retired from politics, the self-styled "hockey mom", who was John McCain's running mate in 2008 before losing to Barack Obama, remains an influential conservative voice.
Billionaire-turned-politician Trump expressed his gratitude for the public endorsement.
Palin could bring Trump more backing from the Republican right-wing and she reinforces the perceived "straight-talking" style which has made him popular. However one Republican said although he liked Palin "she cant stop Trump from being crazy", referring to some of Trumps proclamations, such as a plan to ban Muslims from entering the USA.
More than a dozen Republicans and a handful of Democrats have announced they are running for their party's 2016 presidential nomination.
While social media is used as a tool by all campaigners – Trump's use of Twitter, for example, has helped keep him high on the news agenda – critics of the candidates have also been quick to add their own brand of satire.
New Yorkers will soon be waking up to see this on all the newstands – Daily News front page on Pailn+Trump pic.twitter.com/HjrW6dS7y6

— Mike Smithson (@MSmithsonPB) January 20, 2016
The hardest thing in transcribing Palin is deciding when the sentence stops. https://t.co/pCFOCH0kuh

— Andrew Kaczynski (@BuzzFeedAndrew) January 20, 2016