Space X rocket destroyed after successful EU satellite launch
Comments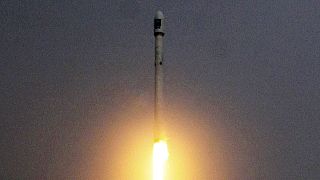 Space X's reusable Falcon 9 rocket has successfully put a European satellite into orbit, but what launch engineers described as a "hard landing" meant the private company's latest mission was only a qualified success.
A faulty landing leg meant the Falcon 9 was totally destroyed when the first stage toppled over on the floating Pacific landing platform and blew up.
It is a setback for company founder Elon Musk's ambition to operate a safe, cheap, reusable rocket system.
The latest flight had begun so well with a faultless liftoff from Space X's California launchpad. Only last December the company pulled off a world first by bringing a Falcon 9 back to earth safely with a ground landing in Florida, but this time for as yet unexplained reasons disaster struck.