New air raids on Sanaa cost at least 25 lives
Comments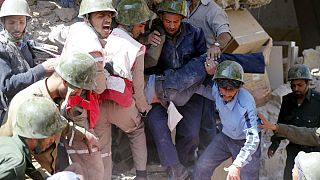 There has been heavy loss of life in the latest of the Saudi-led coalition bombing raids on the Yemen capital Sanaa.
The capital is being held by Iran-backed Houthi tribesmen, and the Saudis and the Gulf states fear strengthening Iranian influence in the region.
Yemen police sources say at least 25 police officers were killed when police buildings were hit. More than 30 were injured. Several people are believed to be trapped in the rubble.
The police buildings were known rallying points for security forces and the Houthis.
Nearly 6000 people have died so far in the conflict, half of them civilians according to the UN.
On Sunday a car bomb targeting the home of the head of security for the port city of Aden
killed six people and injured many others.