Budapest cabbies protest and call for ban on Uber
Comments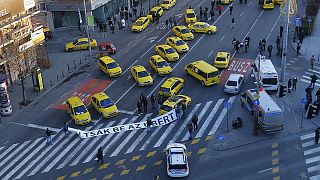 More than 100 Hungarian taxi drivers brought the capital Budapest to a standstill today calling for a ban on Uber and other smartphone taxi applications.
They are opposed to Uber drivers and their cars for not requiring the same scrutiny and examinations as regular taxi drivers.
The drivers claim that half of the rides in the city are taken by Uber.
One protester said: "Now we arrived to that point when this company called Uber became so strong that it takes basically 50-55 percent of our rides on the taxi market."
The drivers took their case to the Mayor's office in the hope of finding a resolution. They left without making a comment except to say they would continue to demonstrate until Uber had its licence revoked. in the country.
New rules brought in in 2013 attempted to even the playing field for all the companies in the city. With the regulations came a hike in price.
Since 2015 the number of Uber drivers have risen from 200 to 1200 and they have had 80 thousand users.
Our correspondent says: "The taxi drivers say that they will keep on demonstration. We don't know yet how long or how many times will they continue to paralyze the traffic of downtown Budapest."
This is the third time taxi drivers in Budapest have protested over Uber following demonstations in June and March last year.